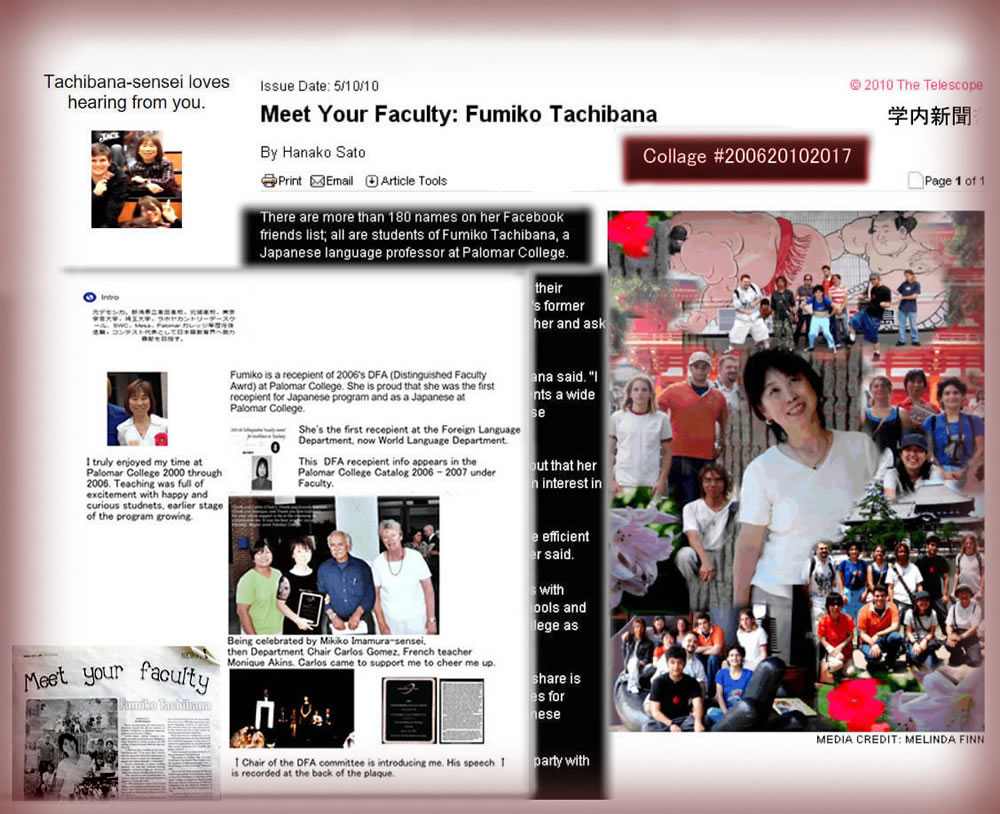 My heart-felt appreciation also goes to the following inspiring teachers whose kind heart still remains in my heart when I look back upon my life in the US: Takako Izumi sensei, Mikiko Imamura sensei, Poet/Professor Steve Kowit, Prof. Manuel Cortes, Dr. Carlos Von Son. I miss them all so much! My big thank you also goes to Dr. Dan McLeord, Professor Emeritus at SDSU, the most important person who gave me an initial support via SDSU. He is very well and active in La Jolla. With
all my love and appreciation. The classroom was my favorite place where I could be myself. The most active period was at Palomar College (1999 - 2015) after all my life was spent in the college classrooms in Japan and San Diego. Students were my Takara-mono. I had the pleasure of winning the Distinguished Faculty Award (http://www2.palomar.edu/pages/dfa/previous-recipients/) for my commitment in teaching (perhaps recommended by the students I taught. I was also recognized the following year 2007 by the Board of Directors of the San Marcos Chamber of Commerce as Palomar college's Most Distinguished Faculty the following year. Wonderful Memories!




Lighthouse インタビュー記事 12/2012 
Asian Heritage Award (JSSDTに掲載された当時の記事2007年)
Stone Bridge Press, Berkeley in 1995. anthology inclusion/ Other Side River
Reviews on Other Side River
Old Photo Album
Some voices from Students
BooksFumiko's publications

FUMIKO'S POETRY AND MUSIC 詩と音楽
My short poem "Lead Me to Henrinji Temple" was put into opera by Mr. Burton V. Foreman.
This music was to be used for a new movie by Tokuma-shobo but unfortunately it did not happen
as it was supposed to. This song was one of the three songs performed and recorded
by the Radio and Symphony Orchestra of Krakow, Poland in mid 1990's.

My Happy News update:

I am directing San Diego Japanese Speech Contest since 2008, after Japan-US Center has closed their activities including this speech contest in 2007. It's our community service.

1) Zane the winner of SDJSC 2019 has just won the ALL USA High School Japanese Speech Contest
https://sites.google.com/site/sdjsc2019/

2) Carlo, the college level winner of SDJSC 2019 has landed in Sapporo. Will explore the northern part of Japan this time!






現在は終活中。教えることから完全にリタイア。
オーケストラ参加記録2018年の参加は。ブログを (https://midoridecafe.blogspot.com/2018/06/blog-post.html)

June 2018




February 2017
https://www.youtube.com/watch?v=j70YHhlXVrI







写真の中のグループ写真の中心に美智子皇后さま(妃殿下でいらしたころ)がいらっしゃいます。
(クリックすると拡大。 1987年のころ。)



このころ、古典学者の亡父橘健二(新編大鏡  栄花物語

、

UCSD Library Data)は喜んでくれ、
この時着ていたオーバーコートは父のギフト(笑)。 記念になるので追加しました。
ウェッブサイトが途中破壊したため拾い集めの工事中。すべて記録のためひろい集めています。