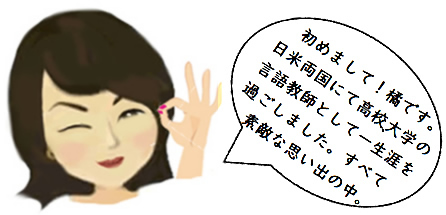 Fumiko was born in Mie and grew up in Nara, Japan and studied English Literature and Creative Writing while attending universities in Japan and in the States at different times. She became an English language professor, starting at a public high school and then moving on to national level universities after obtaining a master's degree. After moving to San Diego in 1990, she was employed to teach Japanese by La Jolla Country Day School, a private high school in La Jolla. Afterwards, she taught at Mesa College, Cal State San Marcos, Miracosta College and Palomar College as a Japanese language professor. At Palomar, Fumiko received the Distinguished Faculty Award in 2006. She enjoyed teaching languages as well as cultural exploration. For a decade, she took her students to Japan every summer. In 2008, she was asked to take over the chair position of the San Diego Japanese Speech Contest when Hisako Coox resigned after chairing for 11 years. Fumiko serves as a chair and directs the event till now (2023) with the support and assistance of the North Park Lions Club. She is currently married and has two grown children. Fumiko enjoys playing the violin and exploring cultural differences of people throughout the world through poetry, music, and language. She was recognized as one of 36 Japanese women poets in the anthology "Other Side River" (Free Verse (Rock Spring Collection of Japanese Literature)) published by Stone Bridge Press in Berkley in 1995. She is currently working on the revision of the past work.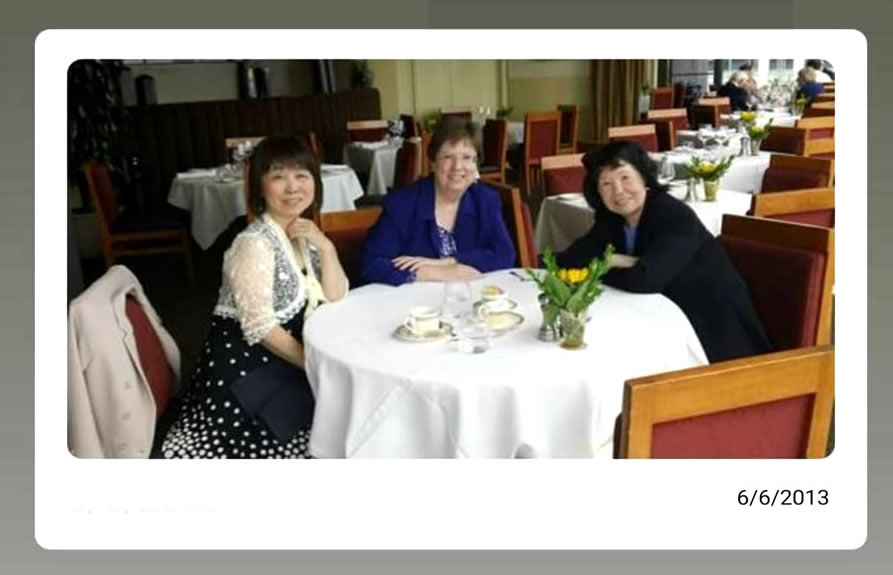 Hisako, Kate, Fumiko



Eye Glasses Donation Drive June 5, 2021
Video made by Fumiko



June 5, 2021, NPLC Club House on Utah St.
Dr. Knott on the right with Napoleon the great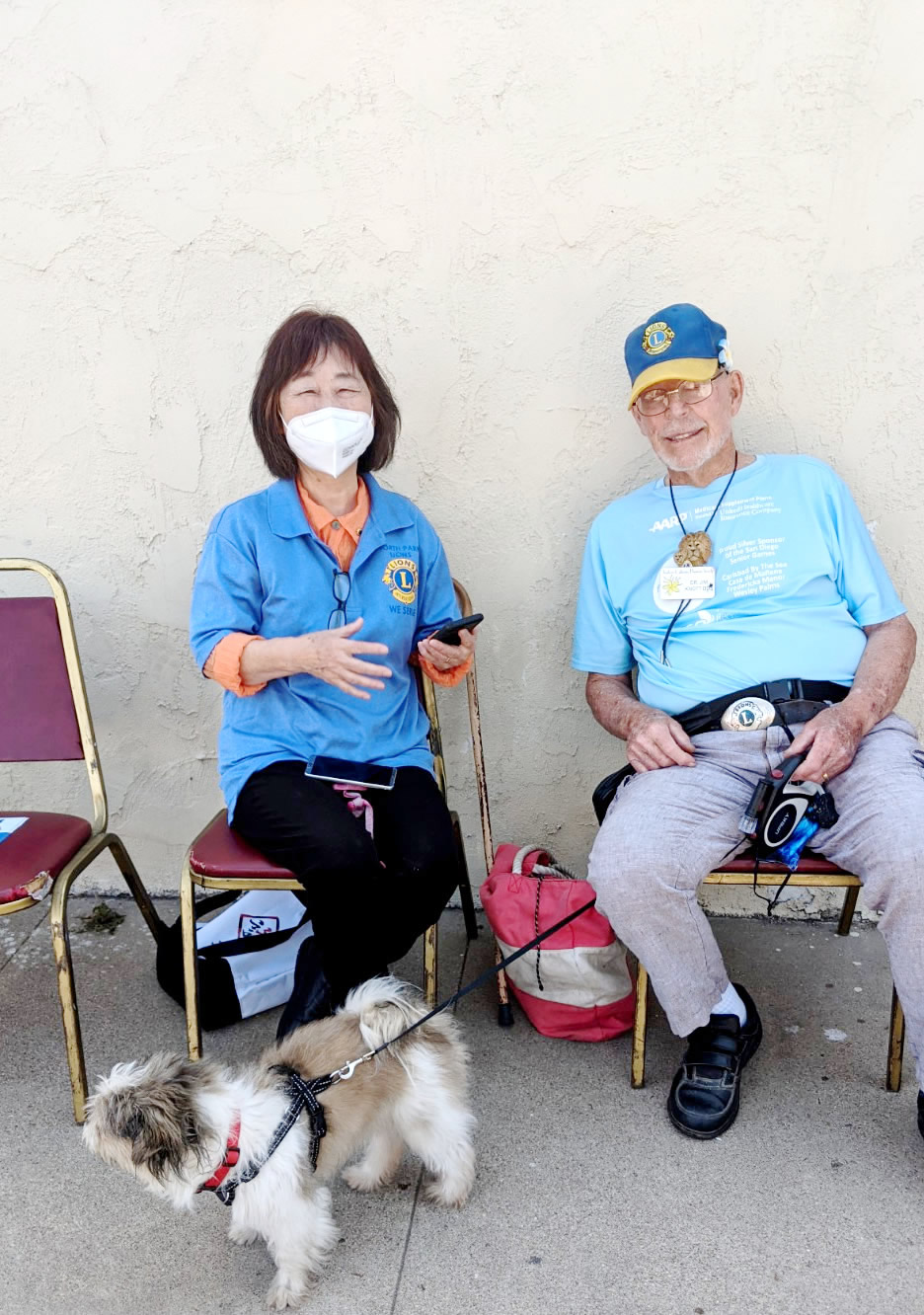 Fall 2019 North Park Lions Club Booth at North Park Farmer's Market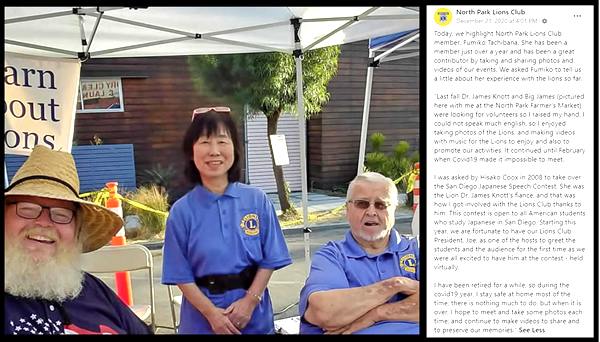 <![if !supportLineBreakNewLine]>
<![endif]>


December 21, 2019 at 4:01 PM

Dr. James Knott, Hisako's fiance, was here at North Park Farmer's Market.
Hisako is the founder of San Diego Japanese Speech Contest.



video made by Fumiko Tachibana

<![if !supportLineBreakNewLine]>
<![endif]>


archive below
<![endif]>
Memory

Hi, I am Fumiko Tachibana.
2006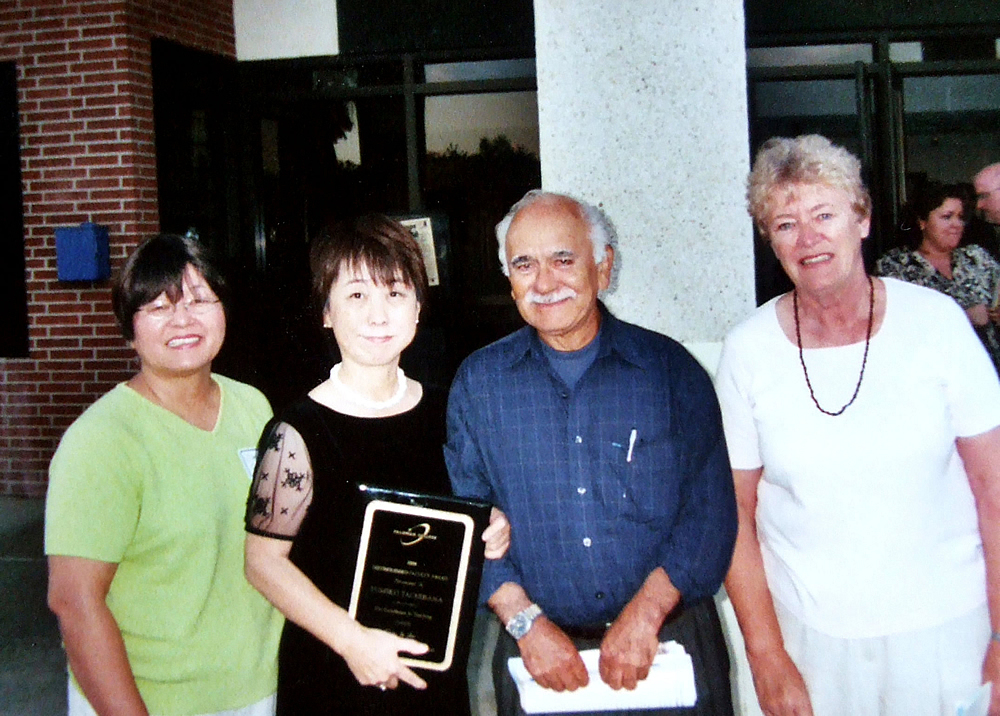 In front of Howard Brubeck Theatre at Palomar College
Distinguished Faculty Award Recognition Celebration
(http://www2.palomar.edu/pages/dfa/previous-recipients/)

Photo from left to right:
Mikiko Imamura Seyller sensei, CSUSM,
Department Chair Professor Carlos Gomez,
Monique Atkins, Palomar College.
Mikiko passed away two years later,
Monique had her house burned down at the SD Fire in the fall
Carlos retired the following year.
I can't say enough how much you all made me happy.
Thank you for your support!
I wish you were reading this page. My heart-felt big thank you and
gratitude more than words can express to you all.
I miss you all!

Screen Shot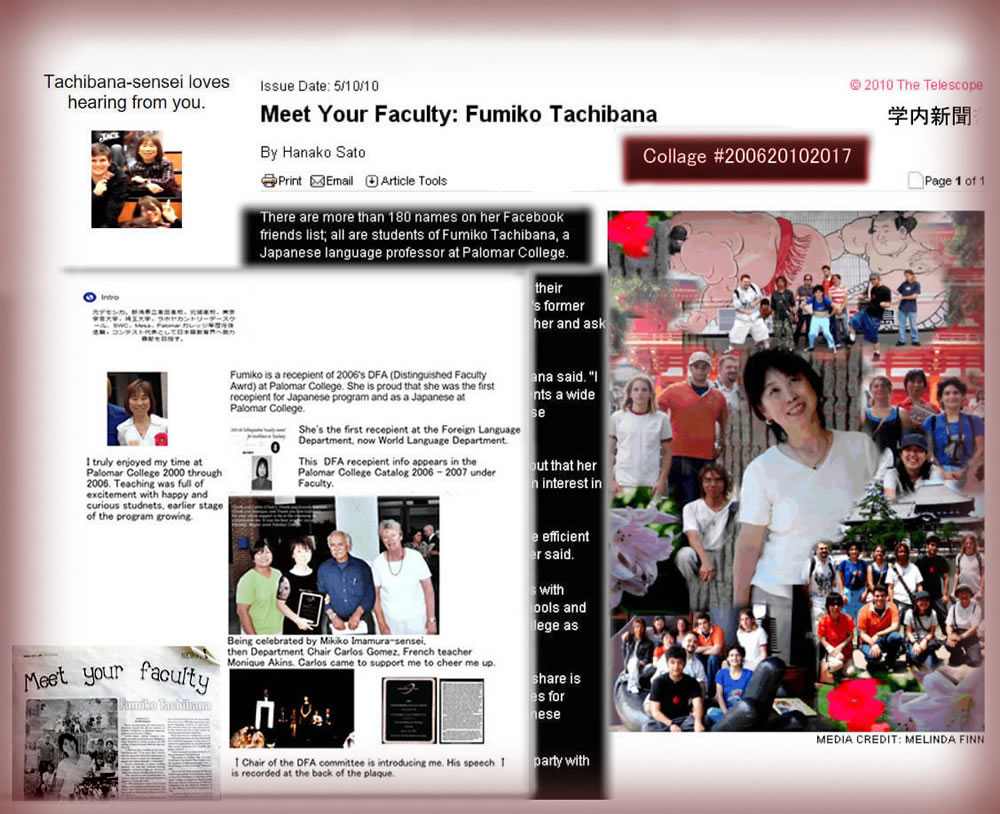 My deep appreciation goes to the following inspiring teachers whose kind
heart still remains in my heart when I look back upon my life in the US:
Takako Izumi sensei, Mikiko Imamura sensei, Poet/Professor Steve Kowit,
I miss them all! My biggest thank you goes to
Dr. Dan McLeord, professor emeritus at SDSU, who kindly
offered an initia and official support at SDSU. The classroom was my favorite place.

My most active period was at Palomar College (1991, 1999 - 2015)
after I taught for many years at high schools and colleges both in Japan and San Diego.

I had the honorary pleasure of winning the Distinguished Faculty Award
at Palomar College where I finished my career. I was also recognized the following year
by the Board of Directors of the San Marcos Chamber of Commerce as
Palomar College's Most Distinguished Faculty.

Wonderful Memories!
Meet Your Facult : Fumiko Tachibana


HMV & Books Bio






Lighthouse interview 12/2012

Asian Heritage Award (appeared in JSSDT)

anthology inclusion: "Other Side River" inclusion: Stone Bridge Press, Berkeley in 1995.

Reviews on Other Side River

Old Photo Album

Some voices from Students sdjsc_voice.htm
Books:Fumiko's publications, etc.
FUMIKO'S POETRY AND MUSIC
Blog
Music/Violin
2Started in the summer of 2014
Participated in the orchestra

June 2018

February 2017
https://www.youtube.com/watch?v=j70YHhlXVrI


Wonderful Memory at Poetry Reading Circle of Tokyo
with Princess Michiko